Cocktails and Movies' Take Out Theater: "The Terminal"
By Mike Reyes
Steven Spielberg's under appreciated comedy is a heartfelt favorite with a deep, personal connection.
I've always been a huge fan of Steven Spielberg. Ever since I was a kid, I loved seeing what movie he would come out with next, and several of his movies rank on my personal list of the best films in cinematic history. Some of them are from his huge collection of blockbuster hits that everyone loves, like Jurassic Park, Raiders of The Lost Ark, and Catch Me If You Can. Others though are from his "deep cuts" catalog: the films that people really need to explain why they love them, because most people don't share the same enthusiasm. Among those favorites are A.I.: Artificial Intelligence, War Horse, and today's #TakeOutTheater pick: The Terminal.
The Film
The Terminal
Directed By: Steven Spielberg
Year Released: 2004
Starring: Tom Hanks, Catherine Zeta -Jones, Stanley Tucci, Zoe Saldana, Diego Luna, and Chi McBride.
Rating: PG-13
Runtime:  128 Minutes
Studio: Dreamworks SKG
Viktor Navorski (Hanks) has just stepped off of his flight from his home country of Krakozhia, which is assumed to be one of the many fledgling nation-states created by the dissolution of the Soviet Union. It's a country so fledgling that it's stopped existing, thanks to a national coup against the nation's government. Which means that the passport Mr. Navorski holds in his hands is useless. Which means that he can't come into the United States. Which means that he's stuck in the terminal at JFK Airport in New York City. Viktor is nothing, if not resourceful, and over the course of his stay at the airport – his current residence until his country realigns itself – he makes friends, falls in love, learns English through guide books, and waits for his chance to walk freely among the city. Of course, that's if Homeland Security doesn't have him arrested, so as to finally be out of their hair.
Writer's Note: Before I tell you why I love this movie so much, I'd like to share with you my personal connection to this movie. It's going to be long, so if you want to skip to the review and the drink, go right ahead. It's a sad, bittersweet story; and not everyone wants to read one of those on a Spring day like this. I won't hold it against you, and I'll see you after the story.
Ten years ago today, my grandmother on my mother's side passed away. A guiding influence in my life, she was as lovely as she was funny. She loved a good comedy, with La Cage Aux Folles (the French version of The Birdcage) being one of her absolute favorites. She had been ill for a while, going in and out of the hospital before I'd left for my semester abroad in  London. I said I'd see her after my trip, and four months later on April 22nd, I came home. The first thing I did (besides stop for a Nathan's Hot Dog) was travel with my family to see her in the hospital. I was told she was doing well, and had even gotten to talk to her on the phone a little bit while I was overseas. Unfortunately, this was not the case, as she didn't want anyone to tell me that she was only alive because of the machines she had to help her breathe.
She didn't want anyone to tell me that she wasn't doing so well, as she didn't want me to be distracted from my studies. Also, most importantly, she had decided that she'd hang in there long enough to see me return. She wanted to see me one last time, and for that I cannot blame her. The next day, she made her decision to be taken off of the breathing machines. She lasted a couple of hours on her own steam,  but ultimately passed overnight on April 25th, 2004. Her wishes were to be cremated and to have part of her remains brought back to Fulda, the city she came from in Germany. My grandfather and I flew over that Summer, saw her family, and fulfilled her last wish. Her remains were brought to the family grave site, and we said our final goodbye to the woman we all loved so much.
Once back home, I planned on seeing a film with some of my friends, and the first movie that I saw just as I had come home was Steven Spielberg's The Terminal. On the surface, the film seemed oddly fitting, as I had been traveling a lot that year. Underneath the superficial details was the reason why I love this severely underrated Spielberg film. Much like Tom Hanks' character of Viktor Navorski, I too was helping fulfill a promise to someone in my family, and I crossed an ocean to do it. In fact, my favorite scene (which I'll talk about in the review) is in fact my favorite, because I could understand exactly that moment that he was conveying. It was all fresh for me, and I couldn't help but identify and openly weep in the theater. It's an interesting coincidence, but the filmmaker I'd always been a fan of since I was a kid had helped me start to deal with my grandmother's death. If that's not an example of good cinema, I don't know what is.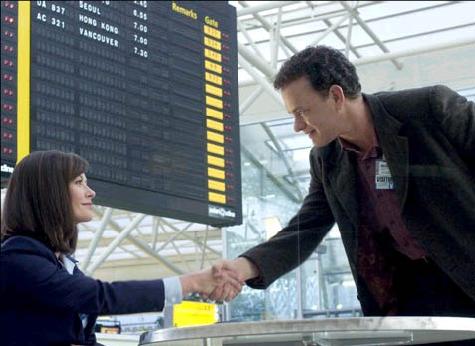 As a film in general, The Terminal  invokes the spirit of Frank Capra, with its whimsical tone but darker examination of the country we know and love. After all, this movie was in the era of Homeland Security's infancy, and its scrutiny comes in the character of one Frank Dixon, played artfully by Stanley Tucci. He would rather Navorski try to make a break for it and get arrested, so he doesn't ruin his upcoming evaluation for a promotion. But unfortunately for him, Viktor is the rule enforcing type, which means he'll wait until he's allowed to leave. During his stay, he runs into all sorts of colorful characters, helps people get their lives together, and even finds time to woo Catherine Zeta Jones' Amelia – a flight attendant who loves history and a married man. Her character, as well as all of the others that populate this movie, feel like real people as they accept Viktor into their group and triumph his cause. There's backstories, there's cute gags, there's even some dramatic weight to be had out of these people and their lives.
This movie is a refreshing change of pace from Spielberg's dual passions of "Thrilling Blockbusters" and "Historical Dramas", although this film was based off of a true story. Character comedies, or even comedies for that matter, have never been a huge staple in his career. Anyone who's read the reviews on 1941 will tell you that the infamous bearded one does not normally swim in these laugh infested waters. Yet this movie stands as a good reason why he should try experimenting a little more with the art form. When Spielberg cares about people, he really cares about people. Even Stanley Tucci's villain isn't a man who's terribly xenophobic, he just wants to do his job well enough to be promoted. His mortal sin is that he follows the rules so much that he becomes obsessed with ruining one man's life. It's not because he hates Krakhozia, it's because he hates outliers. One final note, it's awesome to look back and see Diego Luna and Zoe Saldana given such huge roles so early in their careers. Their heartfelt courtship more than make up for his boosting of Shia LaBoeuf's career, and it's one of the cutest romances on film.
The Drink
In further tribute to my Grandmother, I'd like to present her favorite drink. It's an old fashioned favorite, with a nice little kick when made right.
Ingredients:
3 ounces

dark rum

1 ounce

lime juice

1/2 ounce

lemon juice

1/2 ounce

grenadine

1/4 teaspoon

superfine sugar
Instructions:
"Stir well with cracked ice, then strain into a Collins glass full of cracked ice; stick a straw in it and garnish with whatever the hell you want. We recommend using Jamaican rum. Serve in a Collins Glass."
Thanks to Esquire.com  for the recipe, thank you all once again for joining us for another installment of #TakeOutTheater! Do you have an underappreciated favorite you think we'd dig, and a cocktail that make an excellent companion? Send it our way through Facebook, Twitter, or the Comments section below? Until next week, this has been #TakeOutTheater!